Stand Up Kayak Fishing Tips
Stand Up Kayak Fishing Tips by John Williams
There's a revolution going on in fishing kayaks and it's all about standing up in the boat. This article will cover everything you need to know about the art of standing in a kayak.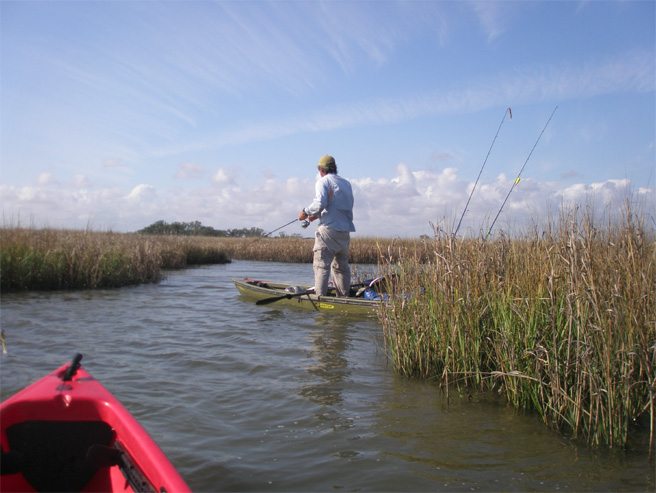 There are several reasons that you may want to stand in your kayak while fishing. First and foremost is to improve your ability to find fish. Sight fishing for Reds and other species is exponentially easier while standing. The angle of your vision into the water is greatly improved with a higher sight angle. Along with sight fishing, you may want to stand to get a better view of where you want to head in the marsh, to look for a way into that back pond that you hear the Reds crushing bait in, and even to give your bottom and your back a break during a long day on the water. Standing in a kayak has so many advantages for the angler, but you'll need to work on your skills to be successful.
Your football or basketball coach taught you in high school that spreading your feet and keeping your knees bent make you more stable and powerful. This concept is very important when standing in a kayak. Your head should be up and your eyes scanning the marsh ahead of you. Keep in mind that your paddle is your biggest external stabilizer while standing. Hold the blade of the paddle with one hand and the shaft with the other. Brace off the bottom if the water is shallow or use a sculling stroke for stability in deeper water. You'll find that if you paddle is engaged with the water or the bottom, you'll feel much more stable.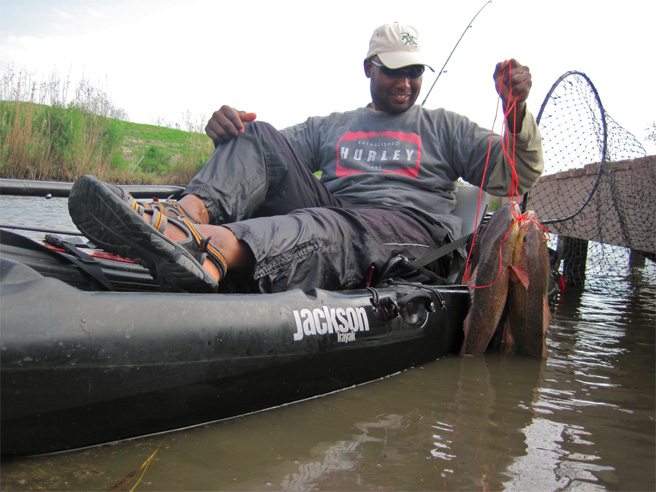 Bring your kayak to a local pond (leave your fishing gear at home) to practice this skill. You will be amazed how much better you will feel after only an hour of practice. If you go back to the pond several more times, you'll be feeling great gliding across the water in your new standing position. Like anything else, having the right tools helps tremendously, and in this case having the right boat can make all the difference.
A kayak designed for stand up fishing has several very important design characteristics. First off, the kayak should have enough width. I prefer to have 30 inches or more of width. The floor of the kayak should be flat and wide. This allows you to comfortably stand and to spread your feet as wide as possible. Lastly, the bottom hull of the boat should be flat or even better, have a tunnel hull design.
For interior marsh fishing I love the Native Ultimate kayak. It's the most stable and comfortable boat you can imagine for stand up kayak fishing. If you also like to fish waters with more chop or surf, I like the Jackson Cuda and the Wilderness Systems Ride. These provide self draining scupper holes that allow water to escape the cockpit without bailing. If you like the idea of a pedal drive boat that's stand up capable, check out the new Hobie Pro Angler 12. It's got a tricked out new seat that adjusts up and down vertically to make it much easier to get up and down.
There's no bigger thrill in kayak fishing than standing and poling while sight casting for big fish in shallow water. Committing to having the right kayak and then practicing your standing skills until it's second nature will make all the difference for your effectiveness in shallow water situations.
©Pack & Paddle – Lafayette, LA – 337-232-5854 – www.packpaddle.com