Mount Driskill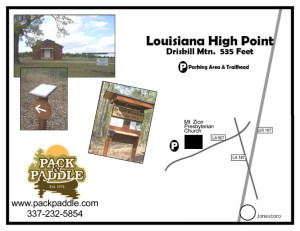 Click here for a PDF map of Mount Driskill!
Driskill Mountain (also referred to as Mount Driskill) is the highest natural summit in Louisiana with an elevation of 535 feet above sea level.  The hike to the top is almost disappointingly short and easy – but it is great to have summited the high point of your home state.
Once on top – an interesting activity is to sign the register located at the kiosk and then read through to see all the people that have made the trip to the top.  You'll find names from all over the US.  These are "Highpointers" who are trying to climb all (or as many as possible) the high points in each state.
A great additional hike to try when in the area is the Saline Bayou Trail