Native Watercraft


These are the Native Watercraft Kayaks that we carry – come by to see them in our showroom and set up a demo!
We've created a page for new owners to get to know their Native Watercraft better.
Click here for maintenance tips, web addresses and more.
Slayer Propel 10 & 13

Why it's Great for Louisiana:
The Slayer Propel is an excellent choice for open water fishing for trout, bass, and other species.  It's drive allows you to pedal forward or back, allowing you to maintain your position efficiently.  It also functions well as a sight fishing boat allowing you to crank the pedals while standing to maintain the position of the boat. Really, really good for a variety of Louisiana fishing.
See more info & photos of the Slayer Propels!
Ultimate 12 FX

Why it's Great for Louisiana:
This may be the "ultimate" sight fishing craft for the Louisiana marshes.  It is not self bailing, so not great for open water, but this boat is light, easy to load, stand up capable, quiet and easy sight fish out of it.  As a bonus, it paddles much faster than most sight fishing capable kayaks.
See more info & photos of the Ultimate 12 FX!
Ultimate 14 Basic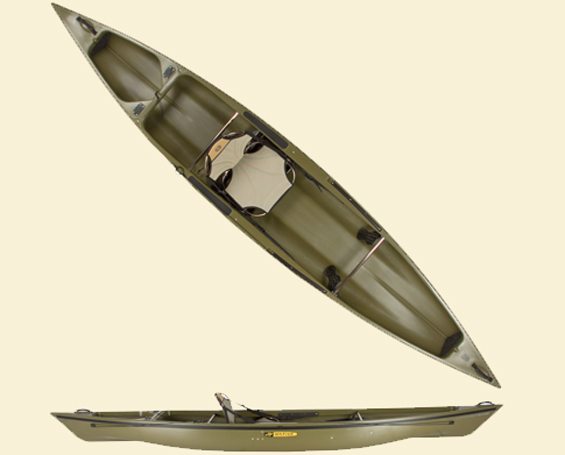 Why it's great for Louisiana
The Ultimate 14 may be the best boat ever created for calm water paddling in Louisiana.  This boat makes a GREAT solo kayak for fishing, touring or camping.   Take it out set up in tandem position when you have someone that wants to go with you.  We recommend this boat for all bayous and marshes in our area – basically all waters short of choppy, open water bays.  It's a great family boat, fishing boat and rec touring boat.
Ultimate 15 FX Tandem

Why it's Great for Louisiana:
The Ultimate 15FX functions as a great tandem kayak that converts to a solo boat.  Perfect for birding, touring AND fishing.  If you want a tandem that can fish well – this is one of the few out there that does it.  Great guide boat, great with kids and families and still perfect to take on your own out to fish the marshes.
See more info & photos of the Ultimate 15 FX!
Manta Ray 12
Our staff put a lot of research this summer into what the best possible boat that we could offer to the south Louisiana paddling community for under $900.  The Manta Ray has the same top-level construction as $2000 level kayaks, but with a simpler design.  It has the most comfortable seat you will find in a kayak under $1300 – bar none.  And it works for fishing, touring and rec paddling in our Louisiana waters.  The Manta Ray offers and incredible value to folks that want a QUALITY boat at a great price.
About Native Watercraft:
Native Watercraft is based out of North Carolina. They offer a variety of kayaks, but their line of Ultimate paddle and multi-sport boats are their claim to fame. These boats are super stable, yet very efficient through the water.  We carry a wide assortment of solo, tandem, pedal and standard Ultimates. Click here to see more info on Native and all their models. If you are in the market for this innovative boat, come by for a great selection!

Native Watercraft kayaks may just be the perfect boats for our area. Built in Greensboro, NC, these unique kayaks have raised the baron comfort, gear accessibility, and user-friendly outfitting.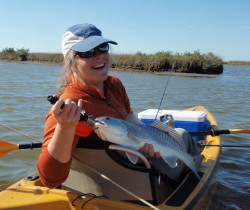 The first thing you will notice when paddling a Native Watercraft kayak is the amazing comfort. The seats are second to none – which is a huge issue for those of us spending many hours in the boat.

You will also immediately notice the extreme stability of the boat. The amazing thing is that this stability is achieved without sacrificing the stability of the boat through the use of Native's innovative Tunnel Hull design.
The Native Watercraft boats make great paddling kayaks, but they also make for an excellent poling craft as well. This is the easiest kayak on the market to stand in, making it easy to peer over marsh grass, stand to sight fish and even fly cast standing up!