Kayak Trailer by Triton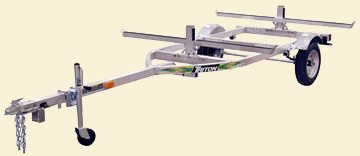 We are excited to bring the Triton trailer lineup to Lafayette. These lightweight aluminum trailers are incredibly well built. The 35″ load bars are wide enough to carry even a pair of Hobie Pro Angler kayaks.
We carry a 2 kayak model as well as a 4 kayak trailer. One of the things we like best, is that you can start with a 2 kayak trailer and then add a level to convert it into a 4 kayak trailer.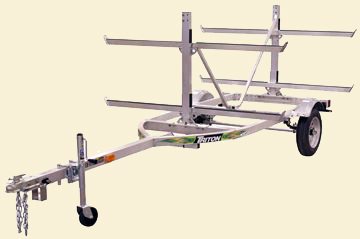 Triton continually makes solid trailers with all of those little things done right to prevent headaches down the road. There's no match on the market for this kayak aluminum trailer. The quality components and innovative designs makes for a trailer that will provide many years of worry free use.
Here's some detail on these quality kayak trailers:
2″ Coupler with Safety chains equipped with spring loaded clips and lock pin for added safety when hauling.
Leaf spring galvanized axles for better long-term protection from the elements.
Welded Aluminum Racks with built-in tiedown tabs on the ends and cushioned seals on loading areas.
Molded and protected wire harness for years of worry free use, long life and no splices to fail
Tough molded plastic fenders.
Sealed lights for long bulb life.
Bearing Lube grease system provides grease flow past both bearings for long bearing life and for easy maintenance.
Aluminum extrusions used throughout the trailer for strength, multiple functionality, and durability.