Jackson Kayak
These are the Jackson Kayaks that we carry – come by to see them in our showroom and set up a demo!
Cuda 12 & 14
Why it's Great for Louisiana:
The Cuda is the sight fishing kayak that still allows you to paddle quickly and with efficiency to spots that are farther away from the launch.  Use it for sight fishing reds at Point aux Chenes.  Use it to fish trout at Cypremort point.  Use it for bass fishing at Chicot.  This boat does it all!
See more info & photos of the Cuda 12 & 14!
Coosa HD
Why it's Great for Louisiana:
The Coosa HD has been dubbed the "Mini Big Rig".  The deck conveniences and the bombproof standing position
Big Rig will remind you of the popular bigger brother but in a lighter and smaller package.  Sight fishing excellence while maintaing the self-bailing ability to fish open water makes this boat perfect for most of our Louisiana waters.
See more info & photos of the Coosa HD!
Big Rig

Why it's Great for Louisiana:
Lots of Louisiana anglers pick the Big Rig for a variety of reasons:  The high volume hull handles larger paddlers and lots of gear extremely well.  The rock-solid stability combines with the included leaning bar for sight casting, fly fishing, bow hunting and more.  The Big Rig works well for shallow water marsh fishing as well as rough open water speckled trout fishing.
See more info & photos of the Big Rig!
Big Tuna

Why it's Great for Louisiana:
This is the tandem to get if you want to be able to fish with a family, take kids out fishing easily and still have a self bailing boat that will do everything.  Even if you are not fishing, and want a self bailing family kayak that's fun to swim off of, paddle bayous, bays and oceans – the Big Tuna is a great option.
See more info & photos of the Big Tuna!
Tupelo 12 & 12.5

The Tupelo may be one of the best recreational touring boats ever created for Louisiana waters.  This boat combines a very efficient, easy paddling hull with stability and the incredible comfort of the Jackson kayak chair.  You can use this boat for birding, day and overnight paddle trips and even some fishing.
Kilroy DT Tandem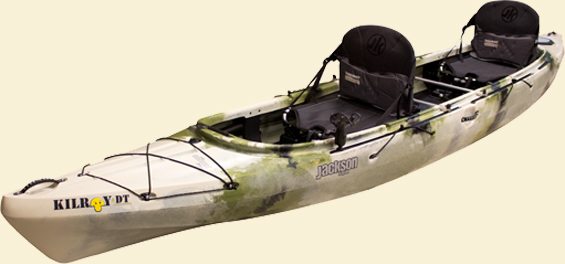 The Kilroy DT gives you a convertible solo/tandem kayak that is stable, comfortable and quick through the water.  You can fish all calm water bayous and marshes with the Kilroy DT.  It makes a great solo or tandem duck hunting boat as well.