Soto

Three decades of experience has gained Shinfuji Burner the highest recognition in the Japanese market. Soto company holds numerous patents for state-of-the-art technology. The 3-fold concept is: "safety, user-friendly and environmentally friendly." Products have passed many JIA and AGA certifications with these concepts, which are widely recognized by consumers in Japan. These products are sold in virtually all Japanese Home Improvement Stores. Soto is recognized as the leader and flagship manufacturer in the industry. Their desire is to manufacture products for the world market with state-of-the-art technology.
Micro Regulator Stove
Newly developed micro regulator maintains consistent output in cold weather. Proprietary "stealth lgniter"installed. Invisible part is installed inside the burner post and head for increased simplicity and improved ignition. The system also protects the igniter. "Hyper surface Burner Head" effeciently heats pan. Excellent for cooking. Case Included.
Compact Foldable Stove
World's smallest stove in the single burner stove with igniter category. Stove is compact when pot supports are folded. When unfolded, firmly supports large pots. Case included.
Muka Stove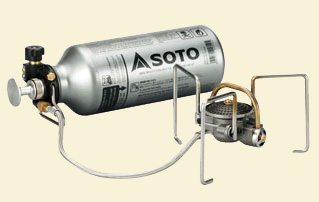 The Muka Stove has revolutionized common understanding of a gasoline stove's characteristics such as becoming dirty with soot, cumbersome preheating, and maintenance before and after use. This gas stove combines a reliable, powerful output and ease of care. Muka is not a simple gasoline stove but the next generation of stove. Includes hose, pump, maintenance tool and a carrying case.
Compact Lantern
Compact lantern with refill tank. Refill lantern with Fuel tool. Use with regular mantle or without mantle. Works like a candle. Installed with Foldable Stabilizer. Case included. Burns approx. 1.4 hours with mantle. 2 hours as a candle.