Jetboil
Jetboil's mission is to develop revolutionary cooking products that truly enable outdoor enthusiasts to push the limits of their endurance and the boundaries of their experience. Simplifying and personalizing outdoor cooking. Since its inception in 2004, Jetboil's revolutionary cooking systems have won numerous awards both inside and outside the outdoor industry. The patent-pending FluxRing® technology, at the heart of Jetboil cooking systems, defines efficiency, safety and ease of use and its introduction has redefined the outdoor cooking category. The Jetboil team is committed to simplifying and personalizing outdoor cooking and empowering a world of exploration.
Zip Cooking System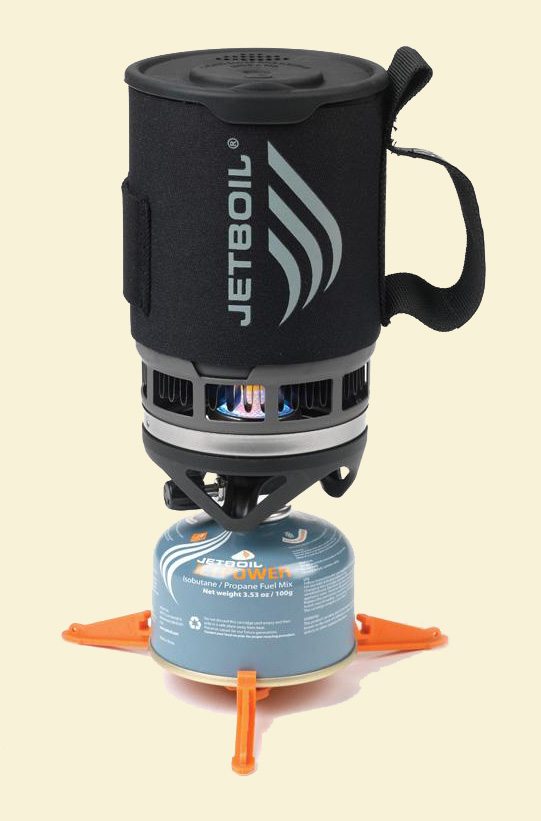 Rely on Jetboil Zip to provide hot food and drinks quickly and conveniently when you want them the most. Zip is so compact and light-weight, you'll keep it on hand for day trips close to home and overnight adventures alike.
-0.8 Liter FluxRing® cooking cup with insulating Cargo Cozy
-Adjustable burner
-Pot Support and Stabilizer tripod included
-Drink-through lid with pour spout & strainer
-Bottom cover doubles as a measuring cup and bowl
-Compatible with all Jetboil accessories
 Sol Advanced Cooking System
Designed to fuel your backcountry passion, Jetboil Sol delivers ultimate performance and reliability in extreme conditions. The all new, ultra-compact 10.5 ounces Sol Advanced Cooking System is barely noticed in your pack, while assuring you're prepared for the toughest conditions. In this true 4-season upright canister cooking system, Jetboil introduces advanced Jetboil Thermo-Regulate™ Burner Technology.
-0.8 Liter FluxRing® cup
-Insulating Cozy with heat-indicating display
-Convenient, reliable push-button igniter
-Drink-through lid with pour spout & strainer
-Bottom cover doubles as a bowl and measuring cup
-Compatible with all Jetboil accessories