Buffalo River Trail Trip Report by Kevin Wallis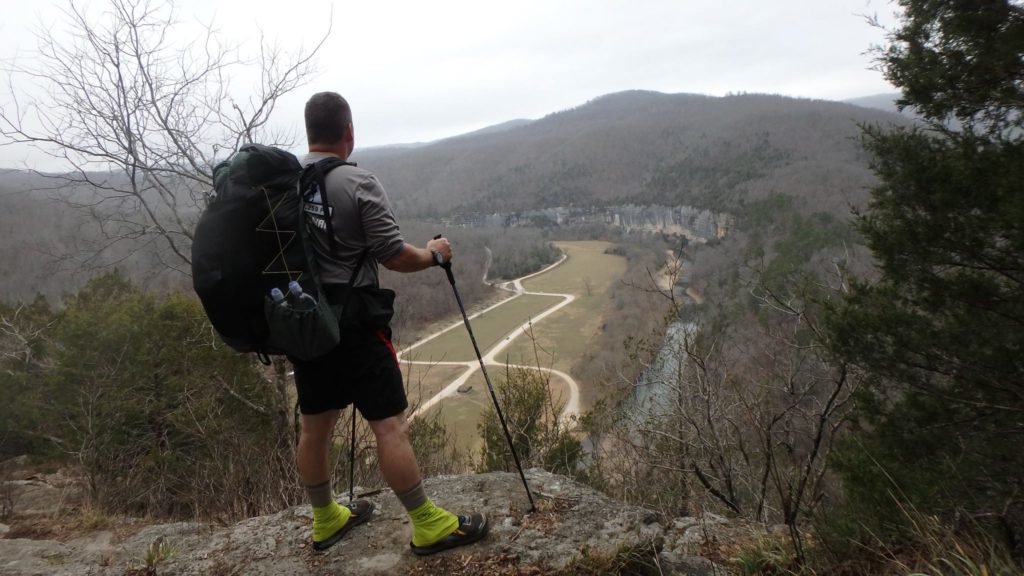 Buffalo River Trail (BRT) Trip Report:
I could do this report in one word, AMAZING!
For a trip that is within a 9 hour drive, you can't beat this.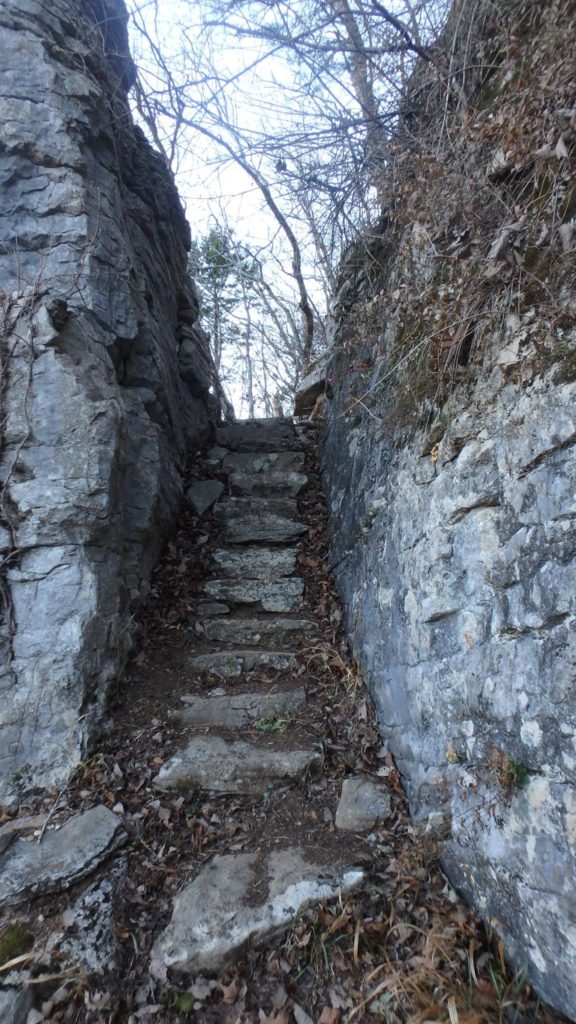 I left Lafayette around 6 PM on Monday the 26th to meet up with my volunteer shuttle driver in Russellville, AR. I'll tell that story after. I had to stop at a Wal-Mart parking lot to sleep and finally made it to my shuttle by 10 AM and got to the TH by 1 PM.
I started at the S. Boxley TH and was hiking by 1 PM. Weather was perfect at a high of 52 for the day and looking to a low 25 at night, I was excited. I had decided to hike this trail from West to east since most of the guides and TRs were done that way. I had also started this way on a previous trip with my Boy Scout troop and seemed to work fine for our section hike to Kyles Landing.
This hike starts with a creek crossing, usually shoes off in the wetter times of the year, so don't spend much time lacing up at the trail head because this crossing is only 100 yards in. After the creek and following the farm fence line you will start a sharp 400′ ascent. This first section of trail between Boxley & Pruitt has about 1300' total elevation gain, not an easy hike for beginners. One of the advantages to solo hiking is the ability to see more wildlife. Since there is less noise, you surprise many deer and rabbits. This morning was not any different; this area is loaded with wildlife.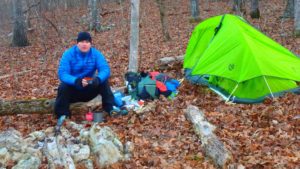 I made it to Running Creek, which was my minimum distance to make for the short day that I had, sunset was at 5-ish. As long as I got past this point, I knew that I could stay on track to finish by Friday morning. As I crossed the creek, I saw an animal on the private road that runs next to the trail, I couldn't quite make it out, but as I got closer it was clear that this was a Llama, yes a Llama. This had to be a farm animal from some of the private property that I was crossing. He guarded the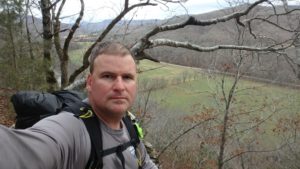 gate entry to the farm as I walked by and took pictures. I didn't approach him, I was thinking he might spit on me and I was trying to make summit for camp before sunset, so I hiked on. Just before sunset, I drug my tired self to the summit and made camp at an unmarked site with a fire ring. Note to self, before committing to camp, make sure the entire area is not covered in softball size boulders. Glad I had a thick sleeping pad.
Wednesday morning, feeling refreshed and looking to get some good miles in, I was out by 8 am. I was hoping to make at least 12 miles to stay on schedule; this would put me at Kyles Landing. The continued cool weather and only a 10% chance of rain would be a big help. As I started the long descent to Ponca I passed a clearing that looked over the farm from a 500' cliff where I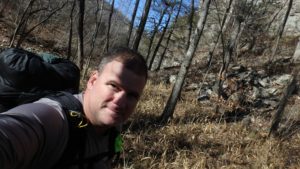 could see a large herd of Elk. Probably the same herd I passed on the drive in the day before. After this long descent, I was happy to be hiking this direction, but knew I would get my turn soon. Ponca to Kyles Landing has similar landscape to first day with a similar 1200' elevation gain. Even though water is not as abundant and reliable as the spring and summer months, I was still able to get water from the creeks when needed. It also helped that the Steel Creek Campground still had a faucet on. The water is usually turned off in the winter months. Just before Kyles landing is the longest most difficult ascent of the entire trail, 600' gain in about a mile. It really wasn't that difficult, it was just the hardest of the trail. The heavy mist of rain cooled me off nicely as I made the ascent. I made it to Kyles Landing around 3:20 PM and decided to camp there for the night since there was a long ascent out and not any camping options close enough. The campground also had a privy that was nice to have in the morning and spotty cell reception that allowed for me to get some updates out via text.

Thursday I figured I would hike 14 miles to Ozark Camp and hike out the 2.5 miles in the morning. This seemed to be a good plan until I had made it to Erbie before 10am and realized I only had about 7 miles to finish to Pruitt. This section of the trail was mostly flat and not many hills to speak of. This was a complete different scenery. The trail stayed mostly along the river a couple hundred feet above and wasn't littered with rocks and boulders as much. This allowed me to average over 3 mph on this section when I was around 2.8 mph on the first 2 sections. I also had cell reception most of the way which allowed me to update my shuttle driver for an early pick-up.
I love hiking in Colorado and Utah, but if you are trying to get out and don't have the time or money to go far, this is a perfect option.
Here are some references for the trail.
Maps & Guides – Free downloadable maps and for purchase
http://www.backpackingarkansas.com/
Arkansas Hiker AP – Purchase Topo maps by Trail. Keep phone in airplane mode and see where you are on the trail, elevation, water sources, historical markers, etc.
https://goodto-go.com/ – The Thai Curry is amazing. Best dehydrated food I have ever had.
Other Trails to consider nearby:
Eagle Rock Loop
Ouachita Trail
Pinnacle Mountain Trail