Virgin Cypress Paddle – Trip Report June 2012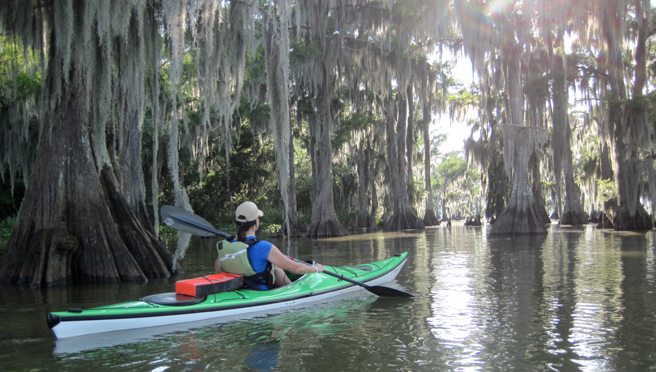 We had bright blue skies welcoming us to Lake Fausse Point for our paddle trip to view the large cypress that encrust the edges of this beautiful lake.  Since we had a strong south wind, we made the decision to paddle the south shoreline in order to get protection from the heavy chop that can build up.  
Our group got the trailer unloaded and within minutes we were gliding away from the Grand Avoille Cove boat launch headed north to the lake.  As we paddled we were treated to a procession of motor boats and jet skis headed in towards Charenton.  As soon as we rounded the corner into the lake, we were all on our own in the peace and tranquility that these majestic trees offer.
As we paddled, the group spotted Great Blue Herons, Green Herons, Prothonotary Warblers, Anhinga, and many other birds.  We also spotted some examples of nurse trees where a different species of tree utilizes the root system of the mother tree (or even dead stump) that stands in the water.  Long strands of spanish moss dripped
from the limbs of the trees and picked up the fading light of the sun setting in the western sky.  We talked about the basin and the plight of the cypress that still remain, the migratory flyway that exists through this area and the places that these birds nest.
The group arrived back at the launch around 7pm ready for supper.  We all enjoyed a hearty beef stew along with cornbread and a cookie to top it off.
I want to say thanks to everyone that came on this trip.  Becky and I really enjoyed being with you for this special paddle trip.  We look forward to paddling with you again!
-John Williams, Trip Leader
To see the rest of the photos from this trip, click
here!