Howl at the Moon Lake Martin July 3, 2012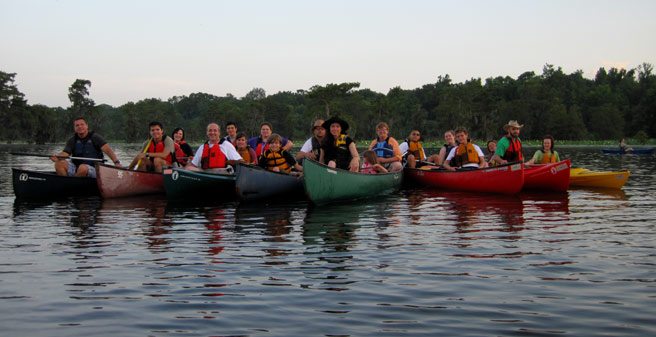 There was concern that this trip may have to be cancelled because of rain. It was raining at Pack & Paddle at our meeting time but we took a leap of faith, after watching the radar, in the hopes that the weather would clear.
Well, it was sprinkling as we neared Lake Martin so the decision was made to eat supper before unloading boats until the possible threat of lightning did not exist. After supper and watermelon, we looked out to a practically cloudless bright sky so the boats went into the water.
We paddled through more American Lotus that I have seen at Lake Martin, stopping to photograph the large, beautiful flower and for me to collect some of the seed pods. The daring adventurers on this trip were noted when they did indeed eat the seed of the lotus pod. It has a nutty flavor, good eating when it is raw but even better when it is roasted. There was discussion of other edible plants in and near the water as well.
We meandered through the moss draped cypress and tupelo, making our way south towards the rookery. The rookery is closed until July 31st, if anyone should observe a boat entering the rookery before this date, please consider taking a picture and calling Kasey at The Nature Conservancy. There were several flocks of Roseate Spoonbill, White Ibis, Snowy Egret and a host of other waders flying overhead as the sun sank towards the horizon. There were plenty of Northern Cricket Frogs calling, as well Pig Frogs.
This is alligator nesting season, so the walking trail is closed around the lake but that is of no consequence for us on the water. We do however stay away from the edge of the western and northern shore of the lake where the females have nests.
Once we arrived back at the landing, we opened the ice chest again to finish off all that was not eaten before the trip. We had a wonderful trip with a great bunch of folks.
-Stacey Scarce, Trip Leader
To see the rest of the photos from this trip, click here!